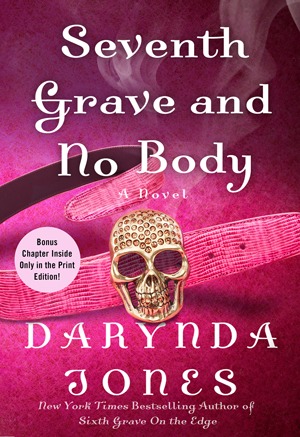 Seventh Grave and No Body (Charley Davidson #7)
by Darynda Jones
Super hilarious, fun , exiting, sexy, and much more. Charley Davidson give me all the things I am looking for with her quick witt and smart comments. All the while she is being serious. Jones give me another entertaining ride that I will remember as I continue on the Charley Davidson saves the world ride.
Charley has some serious decision to make her. Her group of heroes help her along the way. It would never be the same without her oh so sexy fiance.
I could read this series over and over and not get tired of it.
Charlotte "Charley" Davidson, a part-time private investigator helping the police with her ability to contact the dead in her full-time role as the Grim Reaper, in Albuquerque, New Mexico, in a paranormal romantic suspense series:
First Grave on the Right (Charley Davidson #1)
For I have Sinned (Charley Davidson #1.5)
Second Grave on the Left (Charley Davidson #2)
Third Grave Dead Ahead (Charley Davidson #3)
Fourth Grave Beneath My Feet (Charley Davidson #4)
Fifth Grave Past the Light (Charley Davidson #5)
Shimmer (Charley Davidson #5.5)
Glow (Charley Davidson #5.6)
Sixth Grave on the Edge (Charley Davidson #6)
Seventh Grave and No Body (Charley Davidson #7)
Eighth Grave After Dark (Charley Davidson #8) expected 2015
Brighter Than the Sun (Charley Davidson #8.5) expected 2015
The Dirt on Ninth Grave (Charley Davidson #9) expected 2016
The Curse on Tenth Grave (Charley Davidson #10) expected 2016