Montana Mustangs (Nymph #2)
by Danica Winters
rating 5 of 5 stars
status Read from March 21 to June 21, 2014
format ebook
review* Aura Montgarten is a shifter of a different kind. She has much on her plate of life. Dane can be that key to open the doors to her soul. there is a lot of life in the words on the pages and they just spring off right at you. There is knowledge and depth in the descriptions. The characters have life of their own and makes the story play like a movie in your head.

Winters' has brought me a shifter tale like no other I have read before. This story of a nymph has me spellbound. I am most certainly looking to get more.

Net Galley ARC read.
Savannah Sacrifice (Nymph #4)
by Danica Winters
rating 5 of 5 stars
status Read from March 23 to June 21, 2014
format ebook
review* Starling Jackson a young nymph/demi-god has a lot more than seduction to offer. Starling has the possibility of living an immortal life but an immortal life with spirits hunting you is not what one may wish to live with. She may have an ace up her sleeve. Her mother's friend left her something very, very valuable. She needs to get to it before she goes mad or fall in love. Something her friend, confidant, and bodyguard tries to help her do. But there is one thing their growing attraction that may derail their attempts.

Winters' provides another Nymph romance. I am eagerly awaiting another installment in this series. Savannah Sacrifice may be the better of the two that I have read thus far. I do look forward to reading the others in this series.

Net Galley ARC read.
Captured by the Pirate Laird (Highland Force, #1)
by Amy Jarecki
rating 5 of 5 stars
status Read from May 27 to June 21, 2014
format ebook
review* Super hot and hunky highland laird. What more could a girl ask for?....Ahhhhhhhhhh and a pirate to boot. Here is my first venture into the works of Jarecki. I do promise this will in no way be the last. Highland men are all the rave at my Nook and Kindle.

You get a great dose of the highland strength and dominance. Hot, sexy,romance, and engaging action and adventure. The characters are rich and filling. One's a laird on a mission to feed, cloth, and protect his people. The other is a lady not wanting the husband in which she wad wedded to by proxy.

Its a run of the gambit of emotions. Laughter, crying, soberness, frustration, and others along the way. Jarecki has earned herself a follower of this new Highland (Highland Force)series.

NetGalley ARC read.

Next, please.
Thrown The Highland Henchman (Highland Force #2)
by Amy Jarecki
rating 5 of 5 stars
status Read from June 10 to 21, 2014
format ebook
review* Adventure and excitement is what Miss Enya Ross craves in life. The she meets a Highland hottie that makes her remember why bad boys are big thing. She can shot arrows, ride horse and run wild as any male, but that is not what is expected of her. She wants more from life than girlie, girl stuff.

Bran MacLeod is heading to the lowlands by invitation to a tournament by Laird Ross. The tournament he is to attend turns out to be something completely different. With everything else going on Bran has to contend with Miss Enya. This can make a hard day even harder for him. He has much stacked against him. He is in the lowlands. He is not of noble birth. He is a barbarian highlander. He is not good enough for her. Seeing everything unfold is the delight of this adventure they undertake together.

Jarecki is a wonderful writer. She has my full attention whenever she writes about my favorite men in the world, Highlanders. This only has me on the edge of my seat to finish up book 3 int he Highland Force series.

NetGalley ARC read.

Next, please.
Beauty and the Barbarian (Highland Force, #3)

by Amy Jarecki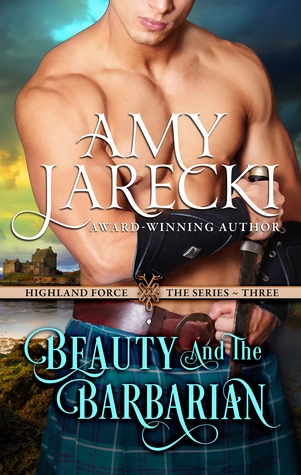 rating 5 of 5 stars
status Read from June 16 to June 21, 2014
format ebook
review* Highland barbarian that can come a knocking on my door any day of the week. Ian MacLeod & Merrin joining provides intense action, extreme drama, fiery passion, and sensuality out of there time. On this isle for twenty years, Merri felt as if she was not worthy of anyone to love her, much less to see her. She has the heart of an angel and the spirit of one. Ian is not the total beast one makes him out to be. There are many sides to each of them and they allow each to see more than expect of the other.

Jarecki can write me more Scottish Highlander Historical romances any day and any time. I will make every effort to make sure I attain it an devour the read completely.

NetGalley ARC read.

Next book bring it own. Just have to be patient.
I am not a professional reviewer. These are just my personal opinions.
*This was a free read in exchange for an honest review for the author and/or the publisher.